Creator's Corner
A dedicated time and space for bloggers, business owners and creative entrepreneurs to sit down, strategize and create the content that their business needs to thrive in our current digital landscape.
What is Creator's Corner?
Join the Mailing List
Solving the Content Curation Problem!
If you're running a business or blog online, you know how it is when it comes to creating content. There's never enough hours in the day to create, capture, hashtag and put out the ideas that we have flowing around in our heads.
The Creator's Corner is a monthly space, created by Christina Gwira, that allows you to do just that. For two hours every single month, you can come to a place where you can focus on creating and curating content… and that's it. In addition to creating content, you'll be able to ask Christina – a seasoned graphic designer, web developer AND digital marketer – for one-on-one help with your business, at absolutely no cost. There are no panelists, no networking. It's just you and a small group of like-minded business owners putting in the work – and time – to curate content for your business.
What Can I Do at Creator's Corner?
There are so many things that need to be done when it comes to running your business' presence online. Here are a few ideas as to what you can use your time at Creator's Corner to accomplish for your business.

Photo Editting
Creating Lightroom presets, organizing photos, editing photos and more can take time. Lots of time. Use Creator's Corner to edit your photos for upcoming Instagram posts, lookbooks, your blog, your portfolio or any other place where your beautiful photos are needed.

Hashtag Research
The Instagram algorithm can be a pain in the butt. Hashtags are a free way to gain exposure for your business on Instagram, but time needs to be spent to research them. Enter Creator's Corner. Spend time focusing on the right hashtags your content should live in on Instagram.

SCHEDULE POSTS
Creating content consistently is one thing. However, we can't be at our phones, or in front of a computer to post all the time. However, it is necessary. Scheduling out your posts in advance allows you to spend more time engaging and preparing for the future.

Graphic Design
Graphics are a great way to convey your message. These can be anything from flyers to post templates, Facebook banners to Youtube thumbnails. Take some time at Creator's Corner to get those pieces together! And you'll have a graphic designer on standby to help you out!

Writing Blog Posts
You've got your blog post outline. THe topics are ready to go… Now it's time to write! Use Creator's Corner to buckle down and write out those blog posts that you've left on draft for too long. Focus your energy in writing your posts and get your blog back on track with regular programming.

Engagement
Engagement, Engagement, Engagement. It's the lifeblood of social media. Without engaging and interacting with your online, you can't build better products, hear what your customers are saying or react to their wants and needs. Take time every month to be present on your platform.
What Do I Need to Bring With Me?
Below are some suggestions of what you can bring with you to Creative's Corner. We advise that anything that will help you focus, and get in gear to work, that is what you should bring along with you.

Headphones
Zone out to your music, keep focused and block out any noise that may hinder you on your creative journey at Creator's Corner.

Laptop
It's always good to bring a laptop. You can use it to research, post on your blog, do graphic design and much more. Don't forget your charger!

Notebook
Some find it easier to jot down their thoughts with plain old pen and paper. Bring a fresh notebook and multi-colored pens and get writing!

Chargers
We'll be working for approximately 2 hours. Please remember to bring your chargers so that you can continue to stay plugged in!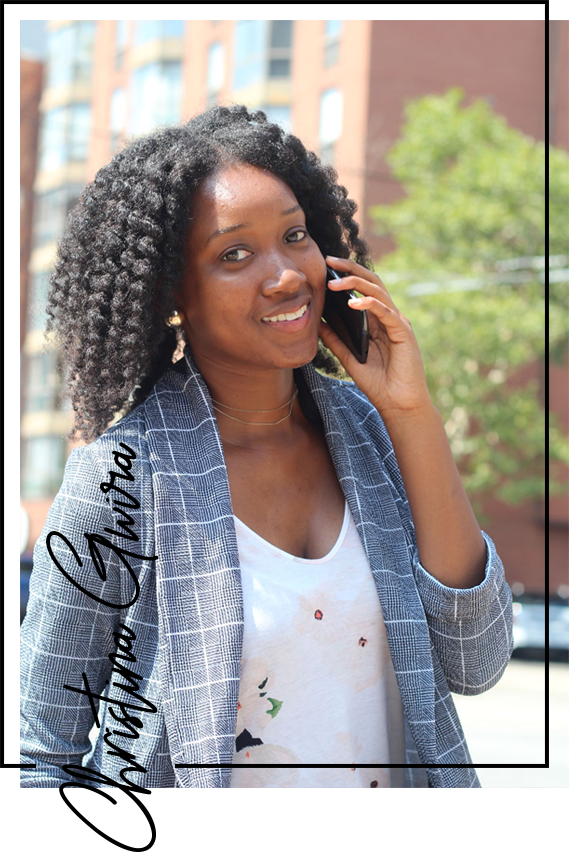 Before being a girl boss was cool, I was hustling my way through high-school. Even before then, I was always selling something or another on the playground in primary school. Fast forward to a life-changing move and a mediocre school career, I became my own boss for the first time in 2008. It provided me with business lessons that I am ever grateful to have learned at that time.
Now, I'm currently running three successful businesses, have over 10+ years in business, 1.5+ million views on Youtube. and a calling to NEVER allow another millennial boss go through the crap I went through. I am here to equip bloggers, brand builders and business owners to create the framework to build a brand, ready to impact this digital age.
Find out what you can expect from Creator's Corner and Christina from creative, business owners and people, just like you!
My experience with Christina creating my branding for my professional birthwork collective was INCREDIBLE. Christina has a talent and a gift for creating a branding that is unique and absolutely speaks to your vision.
I had a great experience working with [Christina] to create a line sheet for my candle line, House of Mosaic. [She] kept in constant communication and helped me understand important terms.
It's rare to find people who are truly motivated by service, yet here Christina is willing to go above and beyond to help people with all of their design needs. Christina was a godsend. Again, thanks so much!!!
Here's What You Can Expect at Creator's Corner
Photo Gallery
See what we get up to when like-minded entrepreneurs, bloggers and creatives get together!
Follow Me on Social Media @ChristinaGwira