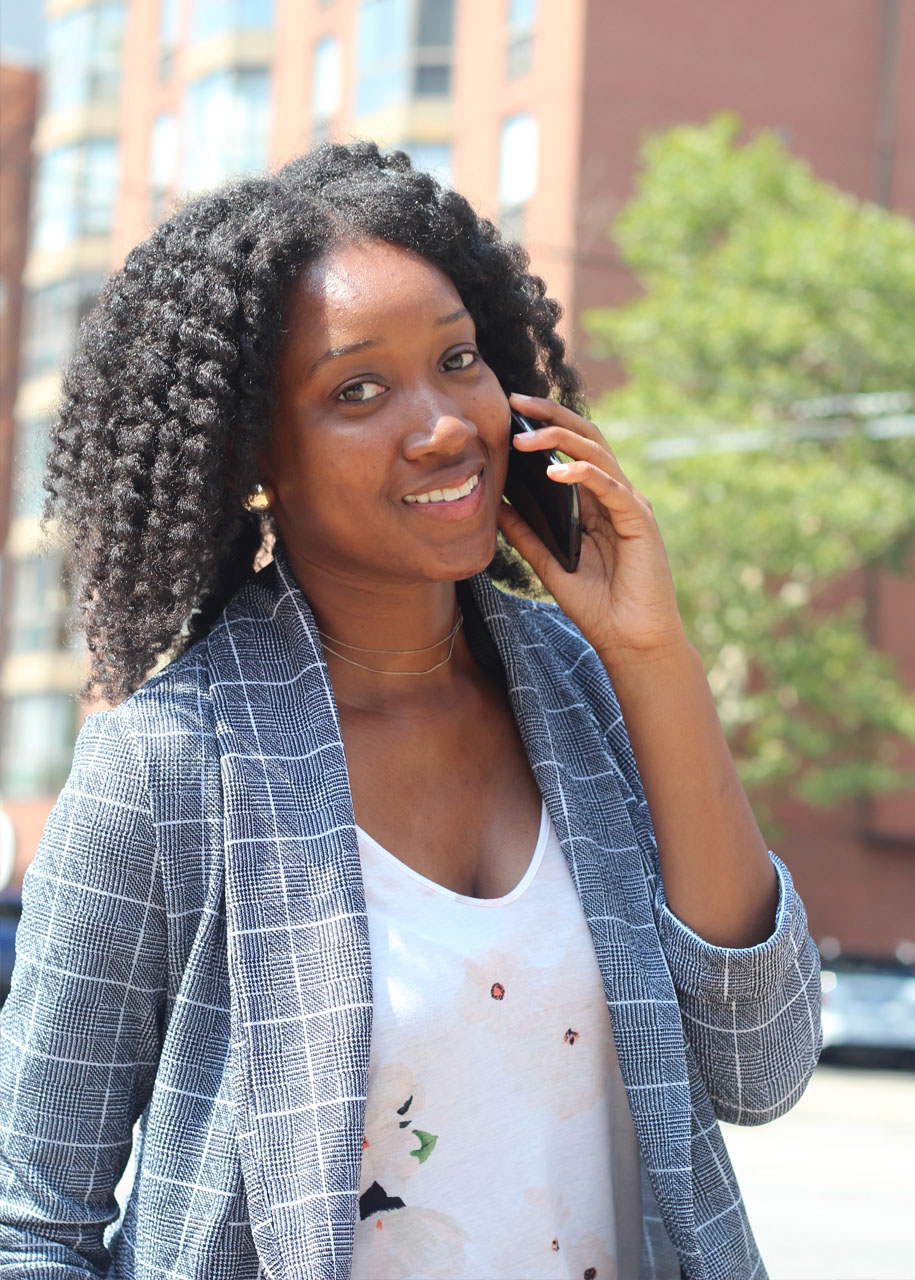 About Me
Before being a girl boss was cool, I was hustling my way through high-school. Even before then, I was always selling something or another on the playground in primary school. Fast forward to a life-changing move and a mediocre school career, I became my own boss for the first time in 2008. It provided me with business lessons that I am ever grateful to have learned at that time. Now, I'm currently running three successful businesses, have over 10+ years in business, 1.5+ million views on Youtube. and a calling to NEVER allow another millennial boss go through the crap I went through. I am here to equip bloggers, brand builders and business owners to create the framework to build a brand, ready to impact this digital age.
Christina Gwira
Founder, NOYADESIGNS
Services & Solutions
Here's What I Can Do For You
Support
I'm here for you and your business. Let's get your head right before you hit the road! Structure is the crucial piece in building a business that lasts in our fast-changing digital world.
Strategize
We don't go in guns blazing, even though we want to! We plan, we strategize! Building a blog, business or brand is a process that must be thought out carefully before it is carried out.
Style
Our head is in the game, our plan is on point, now let's make some magic! This is the fun part where we put our message into words and pictures, colors and textures which appeal to our audience.
I provide you with the:
Tools, technical know-how and training to establish the framework for your brand, blog or business.
Subscribe Now
It's Time to Take Action!
How We Can Work Together?
Online Community
Let's connect on social media! Join my Facebook group, follow me on Instagram or tune in to my weekly Facebook Live sessions to be a part of a growing community of brand-builders like you, who want to experience true freedom from their online presence.
Events
Let's get cracking on your brand via intensive full-day and half-day bootcamps. Work alongside other entrepreneurs during my workshops.  Build connections, grow your business and learn practical skills and tips to expand and build upon your brand.
Consultations
If you're looking for one-on-one attention for your business, booking a consultation would be the best bet for you. During your phone or video consultation, expect actionable steps, advice and more, specially crafted for you and your business needs.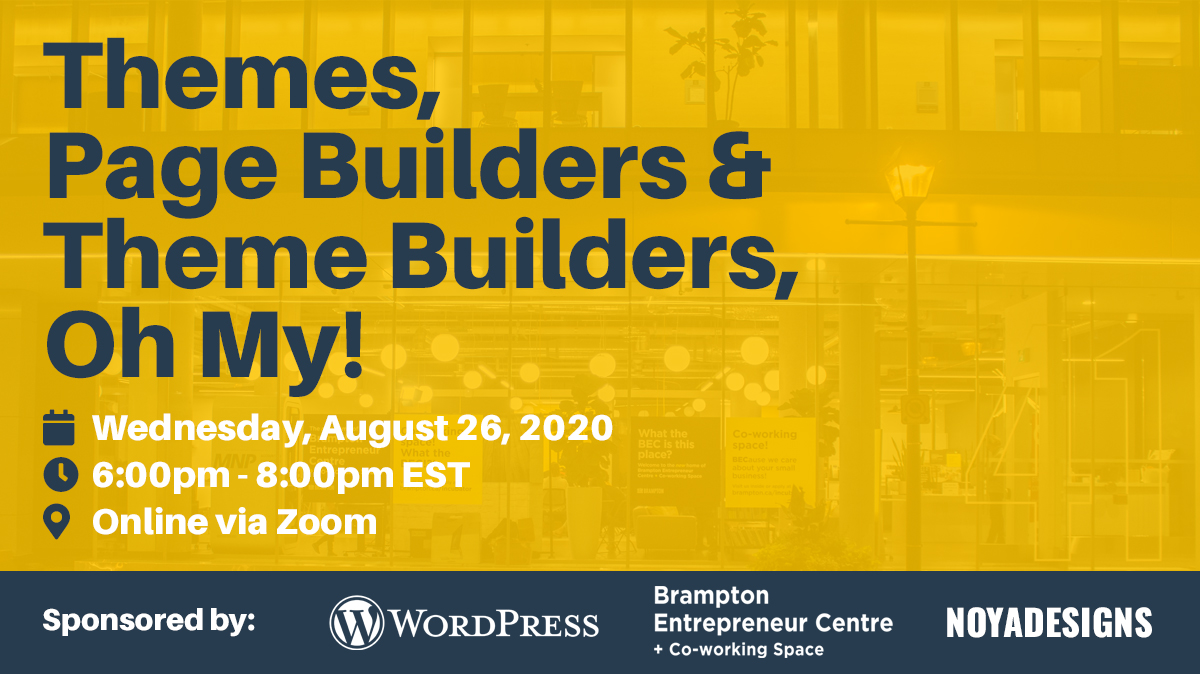 Themes, Page Builders & Theme Builders, Oh My!
August 2020 Wordpress Meetup
We'll be tackling the differences between themes and page builders, as well as the new kid's on the block, theme builders. We'll also take a stab at the default Wordpress page builder Gutenberg while taking a backend look at themes such as Divi, page builders like Beaver Builder as well as opening the floor up for discussions surrounding all things themeing.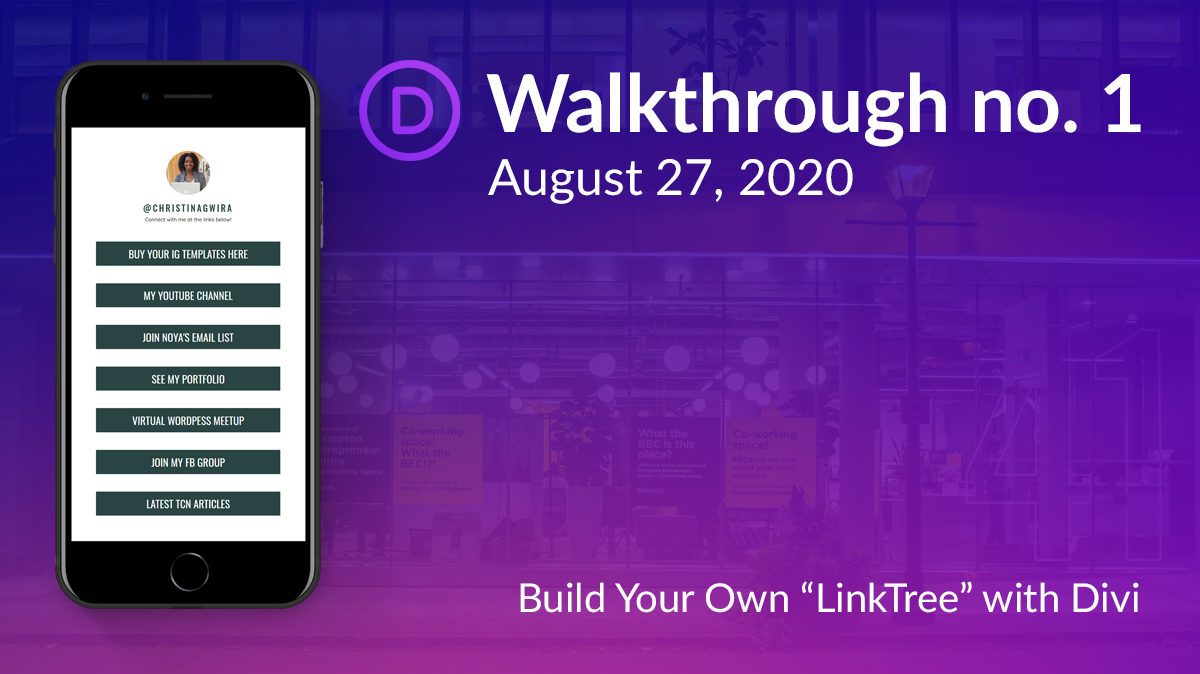 Build Your Very Own "LinkTree" on Your Divi Website
August 2020 Divi Brampton Meetup
Create your very own Linktree on your Divi Wordpress website during this session. If you're using Instagram or social media to promote your business, then you know how annoying it is to update the link in your profile for every new offer you put out there. During today's meetup, I will walk you through how you can create your very own "LinkTree" page on your Divi website.